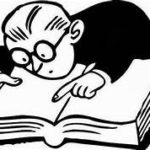 Habakkuk had some questions for God? There were things he saw that didn't seem right or fair. There were things that didn't make sense to him, and so Habakkuk confronted God with his questions and doubts. God didn't give Habakkuk answers, instead He reminded him of His greatness, of His glory, of His eternal perspective and sovereignty.
Habakkuk thought he needed answers, but what he really needed was a new awareness of God, and that awareness brought about a change of heart. In the last verses of the book, Habakkuk declares, "Though the fig tree does not bud and there are no grapes on the vines, though the olive crop fails and the fields produce no food, though there are no sheep in the pen and no cattle in the stalls, yet I will rejoice in the Lord, I will be joyful in God my Savior." (Habakkuk 3:17-18)
Most of us aren't too worried about figs on the vine or cattle in the stall, but we have our own list of things that concern us. We have our own worries and fears and "what ifs." Habakkuk made a deliberate choice. He added a yet to his life. Even if all of those worries became a reality, yet he would choose to rejoice in the Lord, to find joy in God his Savior. He looked away from his questions and looked at God and found his yet.
Like Habakkuk, we often have questions for God. Like Habakkuk, we often experience things that don't make sense. But when we look away from our worries and look to God, when we remember His greatness and glory, His sovereignty and love, we find the reason for a yet. Habakkuk realized that no matter what was going on around Him, there were still reasons to rejoice and be joyful in God – and there are for us too. We may have a list of questions and concerns, but we also can add that wonderful yet and find peace.
PS I wrote this and then quickly had an opportunity to put it into practice. Ended up in the ER last night with a kidney stone. Not quite as bad as no figs on the vine or no cattle in the stall, but still very uncomfortable and seemed like awful timing. God quickly reminded me of these words and I was able to find my "yet" – even in the ER.