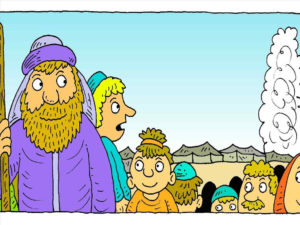 "In all the travels of the Israelites, whenever the cloud lifted from above the tabernacle, they would set out." Exodus 40:36
Imagine an Israelite woman waking up and thinking over the things she had to do that day. The children needed her care, she wanted to clean the tent, Jacob's robe needed to be mended, and she wanted to try a new recipe for manna that Hannah had given her. Before beginning her busy day, she steps outside to enjoy a breath of fresh air when she sees it. There goes that cloud again…and there go her plans for the day. Instead, she will be packing up and following the cloud to the next place God has chosen for them.
I'm having a "there goes that cloud again" experience in my own life. I thought the cloud was staying over the corn fields of Pennsylvania where we were happily settled. And then one morning, I woke up and discovered, much to my surprise, that the cloud was on the move again. And so, we also are on the move again.
While this has been a surprise, and we find it hard to leave our home in central PA, we are excited about the direction the cloud is leading. Peter and I will be moving to Mansfield, Ohio to become part of the Community Bible Church where my son Dan is the Senior Pastor. I will be Director of Womens Ministries and Prayer while Peter will be using his gifts and skills in other areas of the ministry.
Another blessing of this particular cloud is that it's leading to grandchildren. It will be fun to be able to attend their games, school plays, be there for Grandparents Day, celebrate birthdays, and have sleep-overs.  That's the silver lining of this cloud.
And so…there goes that cloud again! We are surrounded by boxes and have lists and lists of things to do in preparation for the move, but, above all, we know who directs the cloud and His ways are always best. That makes following this cloud a privilege and a joy!