"Even the sparrow has found a home…a place near your altar…" (Psalm 84:3)
I like to think that an actual event prompted the words of Psalm 84:3. It's obvious from the preceding verses that the Psalmist loved the house of God. It's not hard to imagine that one day, standing quietly in the awesome holiness of the temple, he saw something out of the corner of his eye. What was it? Was it his imagination or had something fluttered above the curtain? His gaze lifted upward. It took awhile for his eyes to adjust to the dimness of the upper part of the temple. Below was the altar of pure and radiant gold – almost too beautiful for human eyes with its dazzling brilliance reflecting the soft light of the candles. But it wasn't the beauty of these surroundings that filled him with awe each time he entered. It was the holiness of this place. It was the unmistakable Presence – both frightening and comforting at the same time. This was Yahweh's home – where the awe of His presence hung in the air like a heavy mist. It couldn't be ignored, and he longed for it and dreaded it in the same breath. Yet, in the midst of this, a movement, a fluttering had urged his eyes upward. Finally, he sees it – a nest. There, above the flawless beauty of gold and candlelight, is an ordinary nest of sticks and sod – and a sparrow. He watches in amazement. He, who enters this place cautiously, even fearfully, watches in silent envy as the sparrow takes flight again – dipping her wing over the altar before returning to her comfortable home. Here, in Yahweh's holy place lives a sparrow at home with her God.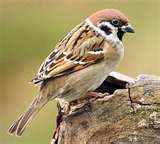 When I read Psalm 84:3,  I see such a picture of grace. I see God's willingness to let me dwell among His holy things, to dip my wings over His altar, and to enjoy the glory of His presence. I see me – that ordinary sparrow privileged to build my nest among the holy things of God.
Come and enjoy the view with me!
Nearness to God devotional help, Esther Lovejoy's blog, Esther Lovejoy's poem, God where are you, help me find God, M Esther's blog, poem about sparrow, sparrow poem, sparrow's nest in God's house, women's devotionals