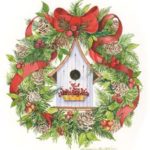 "What comes into our minds when we think about God is the most important thing about us." (A. W. Tozer, The Knowledge of the Holy). Tozer's right. But I also believe that what comes into our minds when we think about God can greatly affect our attitude toward Christmas.
If you have a small concept of God— if you think of Him as a benign grandfatherly type, safe and comfortable—then you will miss the wonder of this time of year. If the Christmas story is mere sentimentality, you may feel a sense of warmth as you hear it again, or as you listen to the familiar music of Christmas, but you'll miss a sense of awe and amazement at the glorious truth that "the Word became flesh and lived among us."
When our thoughts about God begin to line up with who He really is, we find a new joy in the Christmas story, and a new sense of awe that this little baby, born in a stable and laid in a manger, was Emmanuel—God Himself with us. When we begin to grasp the greatness and majesty of the Almighty, we also begin to grasp the wonder that this great God would enter our world in such a way. And as we become more aware of the true identity of Mary's child, our hearts will join those of the shepherds and wise men as we "come and worship." For He, a holy God in newborn flesh, is worthy!
I trust you will spend time thinking great thoughts about God this Christmas Season and experience the best Christmas ever.