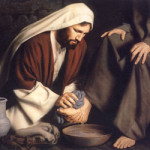 (aka Still Learning)
Recently I spoke at a women's conference in western PA. I spoke Friday night and three times on Saturday to over 200 women. I signed books, and listened to women as they shared their hearts.
Today I will care for a 96-year-old woman with Alzheimer's. I will help her brush her teeth, go to the bathroom, walk with her, and find ways to occupy her time. I will listen to the same comments and stories – yet again!
What a difference between these two activities! And yet what God has been showing me is that there is no difference between these two activities. Both are service. Both are His choice for me. Both are days He has planned. Both are ministry, and both are important in His eyes. He's also been showing me that the words I speak to one older woman are just as important as the words I speak to many women at a retreat or conference. They also need to be words that have His anointing and are seasoned with grace.
Christ spoke to multitudes, and He washed the disciple's feet, but it was when He washed the disciple's feet that He said He was giving us an example. I wonder – is washing the feet and clipping the toenails of a 96-year-old an even greater opportunity to be Christ-like than when I stand before a group of women and speak?
It was a privilege to speak at the Titusville Ladies' Conference, but it's also a privilege to serve one older woman in my home. I don't always remember that, but I'm still learning.