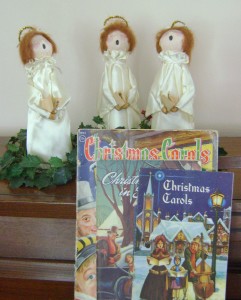 I have a group of old Christmas Carol books on my piano – part of my Christmas decorations. The other day I picked one up and began to play through some of the unfamiliar Christmas songs.  It was quickly apparent why many of these are not still being sung. When was the last time you heard, "Lullay Thou little tiny Child, By, by, lully, lullay; Lully, Thou little tiny Child, By, By, lully, lullay"? Then there's the 3rd verse that just exudes Christmas cheer. "Herod the King, in his raging, Charged he hath this day; His men of might, in his own sight, All children young, to slay." Imagine our toddlers singing that in a Christmas program.
However, the title of one of these Carols really made me stop and think. It offers this timeless challenge:  "From Earthly Tasks Lift Up Thine Eyes." What good advice for this time of year when so many things demand our focus. The irony is that most of the "earthly tasks" that preoccupy us are related to Christmas, and yet those same tasks are often a distraction to the real wonder of this season – "unto us a Child is born."
While the song may be old, the words are still applicable and meaningful.  I would encourage each of us to do exactly what the song advises – to make a deliberate choice to occasionally lift our eyes from earthly tasks – even as we wrap gifts or bake cookies – and focus on the amazing reality of Christmas.
"For unto us a Child is born, unto us a Son is given." That's a truth that's still worth singing about!
Have a wonderful and worshipful Christmas!