Books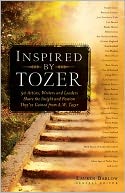 Esther is a contributing author to Inspired by Tozer published by Regal Books. Other contributing authors include Randy Alcorn, Chuch Swindoll, Kurt Warner, Ravi Zacharias, and Joni Eareckson Tada to name a few.
Comments about Inspired by Tozer: "When A. W. Tozer talked about worship, people listened. Tozer lived and wrote a century ago, casting a vision of authentic faith that has taken root in the hearts of each new generation. Lauren Barlow of BarlowGirl is one who has been prodded by Tozer. Now she and a stellar lineup of artists, writers and leaders who have also been inspired by Tozer have created a book of 60 digest-sized, melt your heart, inflame your passion readings.
The Sweet Side of Suffering
Esther's own book, The Sweet Side of Suffering, is now available through Discovery House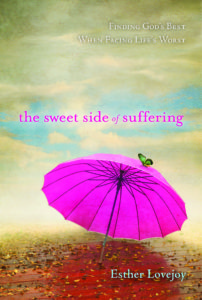 Publishers, Amazon Books, Barnes and Noble, and through most local Christian bookstores.
Joni Eareckson Tada has this to say about Esther's book:  "Those who see the 'sweet' side of suffering are usually believers who have learned to lean hard on the grace of Jesus through every hurt and heartache. It's a good description for Esther Lovejoy as she opens her heart in her new book The Sweet Side of Suffering. Congratulations, Esther, on compiling stirring insights from God's Word that will bless and inspire the reader."
And Ravi Zacharias comments:  "Esther Lovejoy wisely concludes that even in our deepest valleys, we may know the strength and intimacy that God affords us through the ministry of his precious Word. Her book is to be commended not only because it is borne out of her work as a teacher and counselor but especially as a fellow traveler through the vale of tears and seasons of questions. There is a compassion, hope, and encouragement in these pages for the reader."
The Sweet Side of Suffering is also available for Nook and Kindle. 
Just released… The Sweet Side of Suffering Study Guide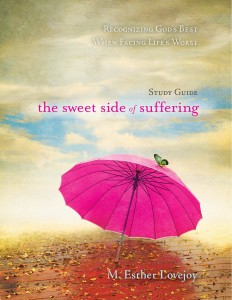 Available at Discovery House Publisher as a free PDF file that can be downloaded or printed. This can be used for group Bible Studies, Sunday School classes, or personal study. It is also available by clicking on the following link:  http://cdn.dhp.org/files/sweet-side-of-suffering-study-guide.pdf