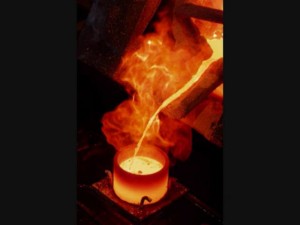 It's a story I've used over and over again – especially when speaking on holiness. It's a familiar story told by Amy Carmichael about her visit to a goldsmith as he was refining gold. The story gives such a clear picture of God's work of refining in our own lives, but I especially love the end when Amy asks the goldsmith how he knows when the gold is pure. His answer is such a powerful reminder of God's goal for us. "When I can see my face in it then it is pure."
And yet, as often as I've shared this story – as often as I've let it speak to my own heart – I found a wonderful new truth in it as I was re-reading it recently. It was actually a side comment in parentheses, but still such a wonderful reminder. Amy Carmichael shared that the goldsmith never leaves the crucible once it's in the fire. When he begins the refining process, the gold is never left unattended.
I love that reminder.  When we are "in the fire" (never a comfortable place to be), our Refiner will never leave us.  He has a purpose for the flames and will stay right there to see that they work for our good. Gold in an unattended crucible can be ruined.
This isn't just a nice thought from Amy Carmichael's story. This truth is solidly backed by Scripture. Psalm 34:18 assures us that "the Lord is close to the brokenhearted…" He never leaves the crucible once it's in the fire. Both the flames and the gold are under His loving and watchful eye.  I find such encouragement in these words. God will never leave us unattended in the flame, but will lovingly accomplish His purposes. And as Job declared, "when He has tested me, I will come forth as gold." And so will we!
(This one's for you, April.)