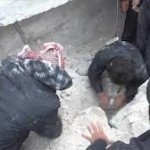 I just watched an incredible video from the aftermath of a bomb that destroyed buildings in Syria. A group of men were on their hands and knees busily scraping away at the dusty remains of a building. It seemed futile. They had no tools and were only able to remove small bits and pieces of debris. I'm sure, in the midst of a situation like that, there must be a feeling that you just have to do something – anything – rather than give up.  But very quickly everything changed. They found a small child trapped in the mountain of debris and dust. They instantly began to dig frantically – not caring that their hands were becoming scraped and bruised. I watched with tears in my eyes as one man spoke tenderly to this little one as the others worked feverishly until they could release the body of this baby. All that work – one precious life. I don't think one of those men would ever regret their efforts.
And then I thought of a story I read of a missionary couple that served in a very difficult area for years. They faced opposition and sickness.  After years, there was just one convert – a small boy who worked for them in their home. Finally, after the death of the young wife, the husband took his little girl and left for home – discouraged and defeated. Years later, when that little girl grew up, she was able to return to visit her mother's grave and found a vibrant church of 600 hundred believers. That one little boy had been influential in leading the whole village to Christ.
The Brooklyn Tabernacle Choir sings a song that I find so encouraging. "It's not in vain, it's not in vain. What you do for Jesus Christ is not in vain." What those men did in Syria was not in vain. They saved the life of a little child. What those missionaries did for God was not in vain. So often we get weary of what seems like just endless work that's getting nowhere. But don't give up. What we do for Jesus Christ is not in vain! He knows what's under the rubble, and He knows what He can do with the life of one little boy.